Latest Post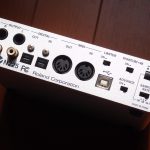 After confirming that Adobe CS6 works on macOS Sierra, I upgraded to sierra, but noticed that Edirol UA-25 did not work. Apparently it's not supported. However, when Advance mode is turned off, it is recognized. I can't control the audio, but I can output the audio.
I thought that FLET'S Hikari become bad speed and it have been stopped.Today, I had NTT come to check, but seems there is an error in the line up to the base station, it took 4 hours-long to recover.
4092 persons visited this site after installing the access counter in April of the last year. Thank you for your visiting!! This year ambitious goal is "the system failure of iMac@Server". Although this goal is more difficult as OS X is strong, I wish to apply high load with many visiting .
I went to Makuhari for the first time in a long time, so when I noticed, I saw the BMW building on my right. In other words, it looks like it's past the interchange. It was 9 o'clock when I lost about 30 minutes and lined up in the Jobs browsing line. Jobs' solo show (which seems to have been in a good mood) was refreshing to me, who wasn't in San Francisco. It looks like a NeXT STEP with a theme on a Macintosh desktop. But as an OS, it looks great. Instead of QuickDraw, I moved Display-Postscript to PDF, "PDF" (I didn't say Display-PDF) is also amazing. I feel that graphic software will change significantly. However, with a 200mm telephoto lens, the shutter is very slow, so it's blurry. After the keynote speech, I went straight to "Actual application server construction with WebObjects". Here, the X T-shirt won. At the exit, I met Mr. Yamada. After that, I Read More