Hardware Peripherals for Macintosh.
Brain Storm
Although MPU is the 8MHz clock operation in original of Mac128K/512K/Plus, It clock up MPU to 16MHz. User can also perform the Japanese input smoothly .
Cooling Fan
If Macintsoh Plus is fanless, it is quiet, but the heat is filled truly. It is the cooling fan made by the third party.
Serial-ports switcher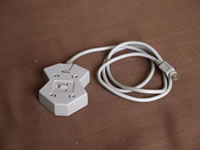 Unlike Dsub for which the serial socket is often used, there was also the thing of such a form in the switcher. ?
Phone Talk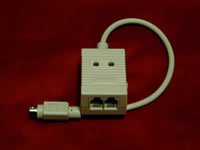 It is using RJ-11 ( 6 pole 4 core modular cable) same as the telephone line for LocalTalk instead of the exclusive cable.Since the cable was cheap, I was cheap and have built local area network.
Quick Cam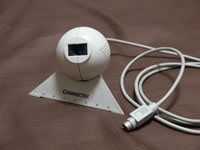 It is the pioneer of the desktop camera. The interconnection is not USB but the serial ports. The popular-name "Medama Oyaji" in Japan , "Medama Oyaji" was advertizing at the hall of MacExpo Tokyo in the announced year.
Pen Tablet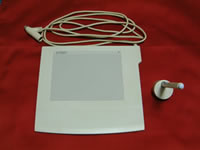 Although USB is in use now, it is Tablet of the ADB port interconnection.
Serial Conveter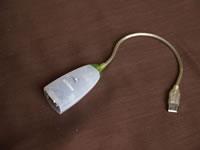 It is the converter for connecting PDA and etc having serial interconnection with Macintosh with the USB port.
Agency in Japan: http://www.ask-corp.co.jp/keyspan/usa19.htm
iMate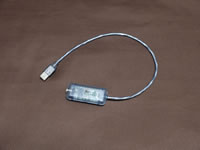 It is the converter for connecting mouse, keyboard and etc of ADB with Macintosh with the USB port. It also supports OSX.
Agency in Japan:
http://www.focal.co.jp/product/griffin/imate/index.html
Bag
It is the back for carrying Macintosh SE and SE/30. It cannot store the thick the keyboard of Macintosh Plus well. It can use also for the traveling bag.