Since@the external HDD for backup becomes out of disk space, I swapped HDD. It is HDA-iE120 made by I/O Data. I love this design.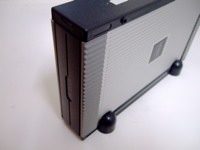 http://www.iodata.jp/prod/storage/hdd/2002/hda-ie/
When the top and bottom cover are picked off, the rest works are easy.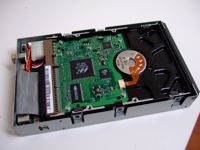 The Control chip is made by Epson.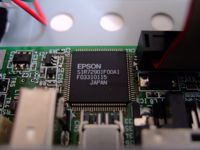 Swapped. 320GB now. Happy ending.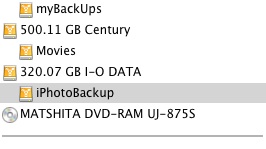 hThis is ith that I booked last year arrived. This year, I decided not to watch a film and television. It is not watched for the time being.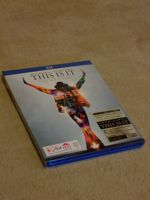 Recently, I maintain this site. I changed Table to Div of some pages, and adopted some pages to XHTML, and fixed the some broken link. And I updated Shell Button updated. It is a software that assign shell commands to a button.
I thought whether updating VirusBarrier license or switching to Kaspersky and Norton or even trying iAntiVirus , after all I updated VirusBarrier because they support anti-virus software for Mac until now.
Incidentally, I choose two-year contract, 3,600 yen.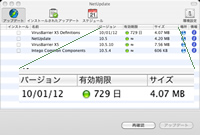 One day later, I broke a Kagamimochi.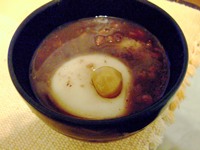 I came to the Nogeyama zoo. It is filled with people than I thought.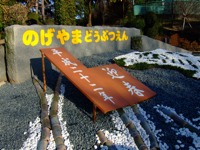 I discovered the bird that I interested in. The name is Kagu. The shape of the feather is nice.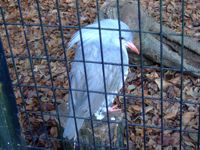 I tested net.USB in many cases. MissingSync could work. About Wacom tablet, OS crashes when the pen touched the tablet.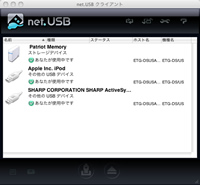 I bought net.USB (ETG-DS/US) bought. My Mac mini can not recognize the USB2.0 but I do not want to buy the new Mac mini. I tried to buy USB device server.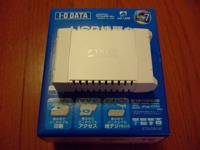 In the beginning, it recognized the devices and can not be connected with them. I tried to remove suspiciously drivers and installed only kext for OSX 1.6 and it become to be able to connect devices.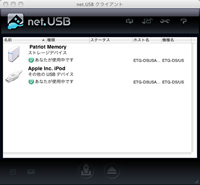 The synchronization with the iPod and reading the images from a digital camera become speedy.
I made rice porridge with seven herbs. It is a lot of fillings.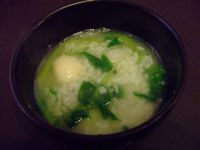 It is iBook that will be newly used as a server. I have operated it since last December.I chnaged OS from OSX to Xubuntu for PPC.
I updated it to 9.10 that supports Subversion 1.6 this year because Subversion used in iMac was 1.6 up to now .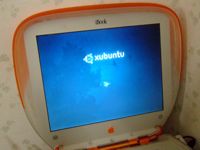 I reboot iBook because it had not displayed again after the backlight was off for the power save while updating it. I thought that it become impossible to start because I rebooted while having updated it but it started with the text console.

sudo dpkg --configure -a

The update was able to be continued. Linux is grate.
Though Subversion was renewed for the past repository but Dreamweaver does not access the repository because the version is 1.4.
Adobe is offering the plug-in that matches the local repository to 1.4, but it is no point. Subversion of Dreamweaver is still bad.
I went to the Meiji Shrine, Tokyu Hands, KirinCity as has happened in the past. As suspected, Meiji Shrine was getting crowded. It took one hour to visit.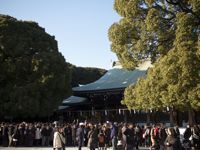 I drank sweet sake as a matter of routine.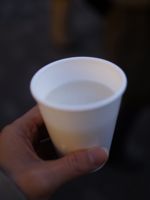 The Tokyu Hands was also crowded.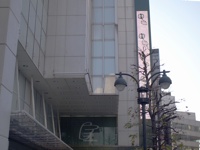 I bought something in the hands. The micor 5 punch for micro notebook. The price is 3000en.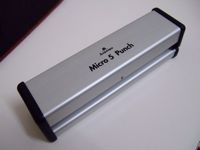 And the beginning beer of this year.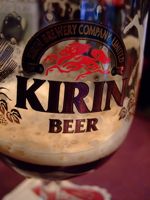 But I drank it.
I came to Zenkoji for hatsumode.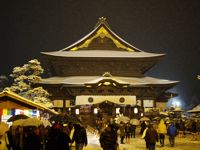 it is the famous temple for hatsumode and waiting is not needed at all unlike the Meiji Shrine.
Since quite a cool body, I ate tempura soba. 900 yen, unreasonable.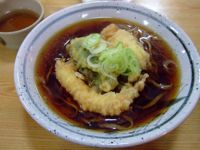 I thought that I could kill time stores until the first trail but I entered a internet cafe because I had the two extra time hour.
Snow is still falling.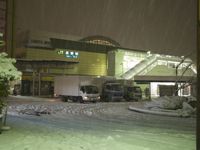 I saw the first Sunrise from the Shinkansen.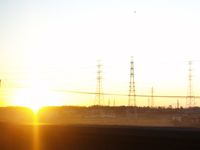 Thank you again this year.