2006/2/15
I have moved backward and started MPW though the age was Universal Binary. I think that I fiddle with MacHTTP for the study of the network. This server works with MacHTTP compiled with MPW now. Is the following the trials to making to the carbon?
2006/2/11
I have gone to a live event of AppleStore Shibuya. When I thought where in that narrow space they did live, they were making the stage under the stairs. I was able to enjoy it considerably.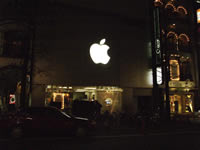 http://www.apple.com/jp/retail/shibuya/
2006/2/3
ArtRage has become version 2. It reacts well about Tablet and I can paint smoothly.I wanted to buy Full Edition though it was a free version that I used now.