2002/5/24
"The heart of Atlantis", I saw. It is a movie with a nostalgic atmosphere in which Stephen King's wonderful world was involved.
Since the preview of Netscape7 was started, I have tried instantly. It is glad to have become a tab browser. I think that the reaction also became fast.
2002/5/7
I found that the owner of the network block of my ADSL had changed to JPNIC from FUJITSU. But I don't know the reason.
2002/5/5
I went to the live yesterday and also the live today. It is under the blazing heat of Chigasaki.
http://music.beatrip.com/musicday/schedule5.html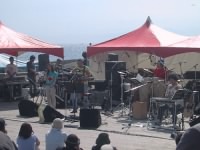 Shonan beer is not delicious for the price, but I was able to drink deliciously today. Of course,it is draft.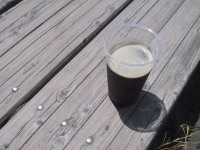 Since the T-shirt was also cool, I bought it. I walked along sands with bare feet after a long time. It was pleasant. The cause which was under 3-hour blazing heat -- my arms and my face -- tinglingly . I was lucky not to stay until the last -- the live continued until sunset--.
2002/5/3
I went to SHIBUYA@FUTURE at the same site of the Yoyogi gymnasium. It is the movable Internet cafe which NESTLE sponsors. Seemingly it is seldom known and was vacant in sharp contrast with crowded Shibuya street in G.W.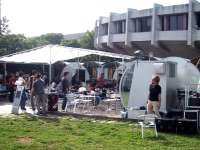 http://www.shibuya-future.com/
My purpose is because there was open inclusion of the program of "Oto-ichi" in which NTV carrying out streaming. The talk corner was very much interesting. The streaming will be carried out on demand on May 6. Please, you may want to see.
Although I've watched "Spider-Man", the CG looked like Animation and it was a little disappointing for me.
Although Kirsten Dunst of a supporting actor was lovely, I did not know that she has played the girl who remained in my impression most between Brad Pitt, Tom Cruise, and Antonio Banderas, and who became ashes in "Interview With the Vampire."
And the e-mail from the good hotel in the Lake District that I stayed before arrived today. It said that I can stay with 50% OFF. But an airline ticket .... It is one of hotels that I want to go again.
2002/5/1
A company in Germany seems to furthering development of Be completely while I has noticed that the domain name of Be is taken out to sale. I am glad if PCI Mac is also supported.