2001/11/28
I have fixed the bug of PicCop. The bug is that the renaming function doesn't work as starting with ON of Rename.
2001/11/26
I registered iCab. Although the payment using the Register application was failed twice, I registered directly to thier site this time. I am not satisfied, but iCab is now my standard browser.
2001/11/25
Since the updater of the firmware of the broad band router (Persol PBR001) I used had come out, I tried instantly. It supports multi-NAT and PPPoE.
http://www.persol-jp.com/download/download.html
The method of update is using the utility for Windows and using a web browser for Mac. Although I tried by a web browser, it did not go well. The firm had broken in the worst thing, so the access by web became impossible (strange data only comes on the contrary). Since it was unavoidable, the utility of Windows was downloaded and I updated it on VirtualPC. I worried about the crash the firm, but the update done well. The way of update by Windows may be safety.
2001/11/24
Mt.Fuji seen from the Shinkansen has already been snowcap.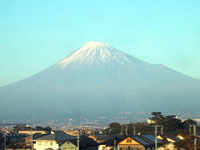 2001/11/23
I was near Uno in Okayama today .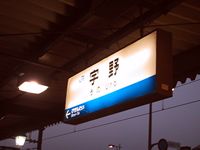 After returning, I drunk the microbrewing beer in Takatsuki where my parents live .
http://www.tcn.zaq.ne.jp/kuninocho/index.htm
Although there are kölsch type and Alto type, I felt it refreshed even if it takes. I considered kölsch in the least so far from yeast beer. Therefore, Alto type is my liking.
2001/11/22
Today is the opening day of the YODOBASHI camera in Umeda of Osaka. Although I thought that it would peep into just for a moment, it is a long line even if it turns around 11:00.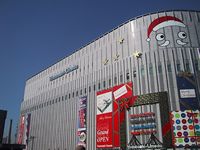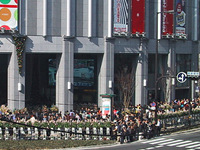 It is not that it is likely to put in very much. Since at any rate,I went to SOFMAP GIGA STORE of the 1st anniversary of opening under elevated of JR and next to the Osaka post office. People of things were in being a weekday very well here. Products offered were carried out by it. Now, it is Windows. There was a lot of XP.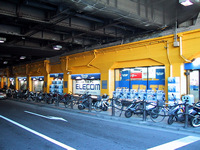 I went to IKESHOP that I concernin Ibaraki city in return. IKESHOP is in the third floor of VIVRE near the Ibaraki JR station.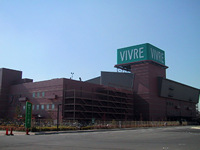 There were the products offered appropriate for IKE SHOP dealing with mobile products.There were HD-trays of 7000 series of Mac, and 8000-9000 series.But I can't understand why IKESHOP is at such a place.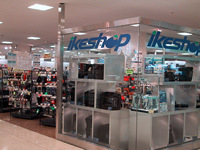 2001/11/17
On MacOS X, since my iBook had few memories too, I bought the memory and added it today. Although I worried about no brand memory, since it was 5980 yen in 256MB, I tried. MacOS X perfectly recognized it. But the price is under the half when buying 128MB?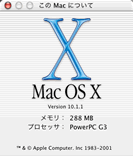 2001/11/15
I connected a IXY DEGITAL with MacOS X for the first time and MacOS X recognized it perfectly today. I did not know that.
2001/11/9
I wished "Evolution" made me laugh more. Although there was a lot of laughing points, they didn't go with a large burst of laughter.
There were scene carried out in great fear by the extraterrestrial, and it didn't have extracted. The contents currently seen by CM are all.
2001/11/5
Unreasonable "Soad Fish." John Travolta showed dignity and cool.Good and evil were none of their business.
Although Sgi also came out, a lot of notes and servers of DELL computers came out. Although I don't know whether to be the genuine, PDP10 also came out once.
2001/11/4
"Postman in mountains", people who live in the contact mountains area of parents and a child, and quiet time is very enviable. Hi-tech was only a pocket radio, if it could be. I like the scene of hearing it covered by a bowl .